Ask for the shots you need for your project. We capture them in the required cinematic quality, in the middle of remote mountains, on Caribbean or Pacific beaches, over jungle waterfalls, lakes, flying over the rainforest and many more perfect locations.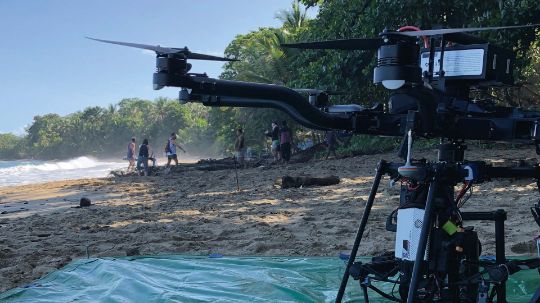 SCOUTING
And if you need a more specific location, we can do the scouting and offer you options from our location database.



Drone Alta 8 
Heavy-lifter
We can fly with cameras such as Alexa Mini, Red, Panasonic GH4-GH5, Blackmagic 6K, or whatever you need in combination with ultra-prime lenses, anamorphic, and other options you require. We can look for them to complete your set-up of choice.

We have the professional Freefly MōVI Gimbal to stabilize the camera and get perfect shots from the air or on the ground.



Drone Inspire 2
Camera: ZENMUSE X5S 5.2k
Available Micro Four Thirds lenses
12mm / f2.0 - 17mm / f1.8  - 25mm / f1.8  -   45mm / f1.8

FORMATS

Cinema DNG RAW ProRes
Aspect Ratio: 17:9   /   16:9   /   2.44:1
4K Ultra HD 3840×2160 | 23.976p - 24p - 25p - 29.97p
4K DCI 4096×2160 | 23.976p - 24p - 25p - 29.97p
5.2K 5280×2972 | 23.976p - 24p - 25p - 29.97p

ProRes:
4K Ultra HD 3840×2160 | 23.976p - 24p - 25p - 29.97p
5.2K 5280×2160 | 23.976p - 24p - 25p - 29.97p



Sony FX3 Cinema Line

High-quality cinematic results for film productions and professional color grading and post.
Full frame | 4k/120fps | 4:2:2 10bit

10-bit S-Log3 and HDR recording
S-Log3 (15+ stops of dynamic range)
E-mount & Canon EF Lens to Sony E Mount Adapter
Field Monitor SDI, 4K Ultra Bright, Touchscreen with waveform.



Cine Lenses
A proper cine-style lenses for professional filmmakers. Lenses case includes:
f1.4 | 25mm - 35mm - 50mm - 85mm

DIRECT THE RECORDING REMOTELY
We use high-speed internet to link communication between the director, director of photography and our staff on set.

And of course, if you wish to be present, face-to-face, we can arrange for on-location filming.

PRE-PRODUCTION
Additionally, we offer a pre-production support service to get everything you need for the production. From props to vehicles to human talent, live sound, and get the shot exactly as you need it for your aerial or floor take, on location, in coordination with your production team.